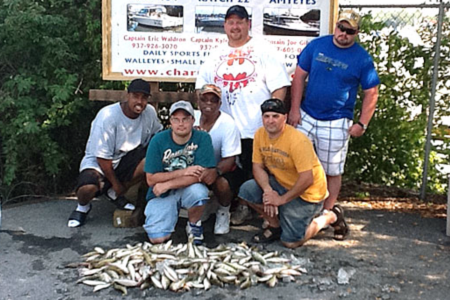 Ohio's
August Yellow Perch
Includes
Guide service
Tackle and bait
Catch processing
Catch shipping
Lodging
Meals
Pricing
Up to 6 people, 8 hours
only
$480.00
BOOK NOW
Some of the best Perch fishing is Lake Erie Perch fishing, especially in early Spring. From mid-April to mid-May, large schools of hungry perch are on the move in search for food prior to spawning. During this time, you're likely to catch a large number of fish, perhaps your limit, in just a matter of hours. Lake Erie Perch are very healthy and quite large.
No experience is required. Both experienced and novice angler alike will benefit from a guided fishing charter aboard a Kymoka Charters boat on Lake Erie. Our Captains put forth tremendous effort to make sure each person in your party has a successful and enjoyable experience. Fishing days are up to 10 hours or catch limit, whichever comes first.
Where it's at.
---
This fishing trip begins and ends in Port Clinton, Ohio.

What's included.
---
Guide service
This trip is guided by one of Kymoka Charter's USCG Licensed Captains. All Kymoka Captains are also Licensed Ohio DNR Lake Erie Guides and of course, their licenses are available upon request. They are there to ensure you have a safe and exciting trip. Remember, off-shore weather can be very different than inland weather. Kymoka Captains constantly monitor off-shore weather via NOAA Marine VHF broadcasts for the most accurate forecast and may unfortunately cancel any trip due to inclement weather.
License and stamps
Every angler over 16 years old must have a valid Ohio State Fishing License. The license cost is included in the trip price and Fishing in the US will work with you to make sure you have received proper licensing before your trip. If you or someone in your party already has a fishing license, please let them know. They will be happy to discount that cost from your trip.
Boat, tackle and bait
All 5 charter boats in the Kymoka Fleet are USCG Inspected Commercial Fishing Boats and designed specifically for the Great Lakes. The boats are very well maintained and equipped with state-of-the-art commercial vessel safety equipment and navigational systems that exceed the requirements of the US Coast Guard. Each vessel is comfortable for up to 6 anglers, however groups up to 60 people can be accommodated by friends of the fleet.
Lake Erie's large game fish require commercial-grade equipment to ensure a successful catch and the Kymoka Fleet is well-equipped with heavy-duty fishing gear. Bait and tackle will vary with the season.
Fish processing and shipment
More information, coming soon.
Lodging and meals
More information, coming soon.
Things to bring.
---
If you are prone to motion sickness, consider preventive measures prior to departure. Talk to your doctor about medications such as Dramamine and when to take them. In most cases, your doctor will recommend taking them well before departure. Consider eating a lighter meal the night before and a lighter breakfast the morning of your charter and remember to get plenty of rest, too.
Fishing license
Everyone in your party over the age of 16 years must have a valid Ohio State Fishing License. Fishing in the US will work with you to make sure you have received proper licensing before your trip. Just don't forget to bring it with you.
Shoes and clothing
All boats in the Kymoka Fleet have non-skid flooring, however hard sole shoes do not grip that flooring. Non-slip shoes, such as deck boots or athletic shoes, are best. Rain gear ( a rain suit or poncho) is a must, because even with clear skies inland, the Great Lakes can literally make their own weather. Bring additional clothing for your trip, including a jacket or wind breaker. Additional clothing can easily be stored on board until needed.
Food and drinks
A light lunch, snacks and drinks will be provided, but you are welcome to bring anything extra. Alcohol is not supplied, but permitted on this trip, however glass bottles are not. If you would like to bring your own, be sure to have plastic bottles or cans.
In your bag
Bring your camera, sunglasses and sunscreen. Consider bringing a hat, even if you're not a hat person, you may be more comfortable wearing one if it's sunny. Firearms and fireworks are not allowed.
More fun to do.
---
Although Port Clinton has been nicknamed "The Walleye Capital of the World", the area offers a variety of fun. From amusement parks to beaches to wine tasting adventures, Port Clinton has something to offer every family member.