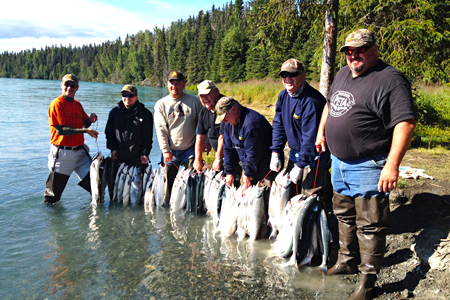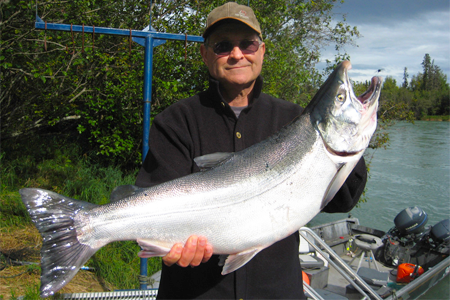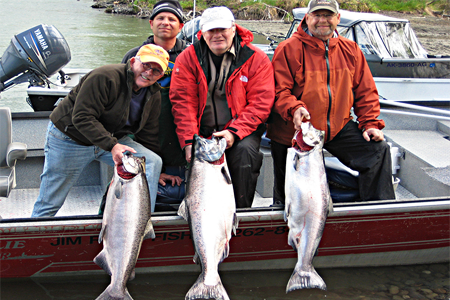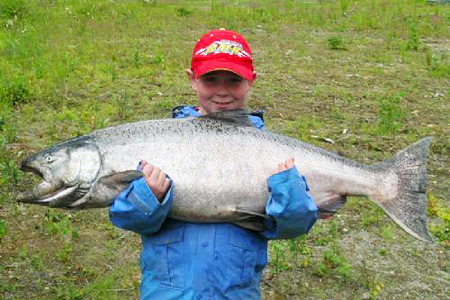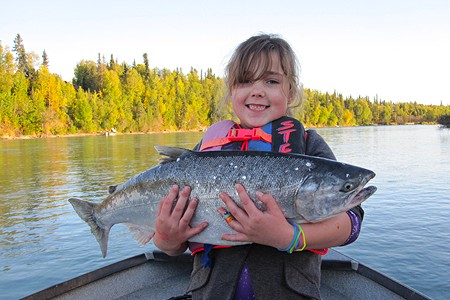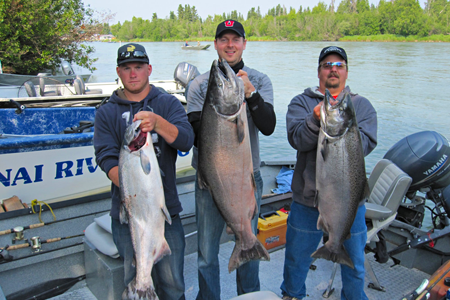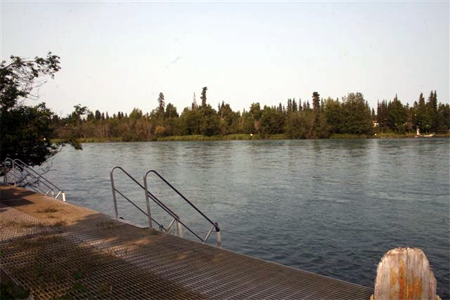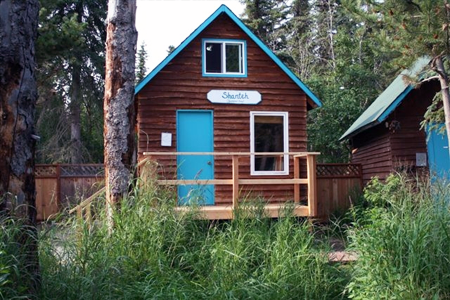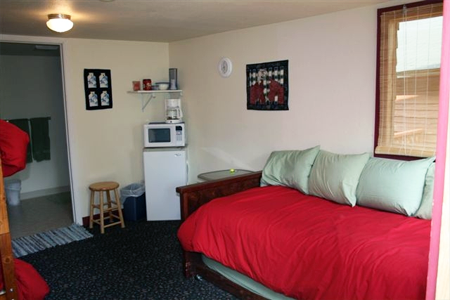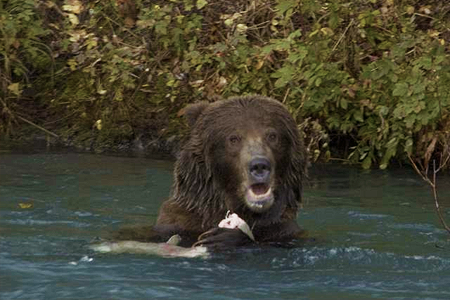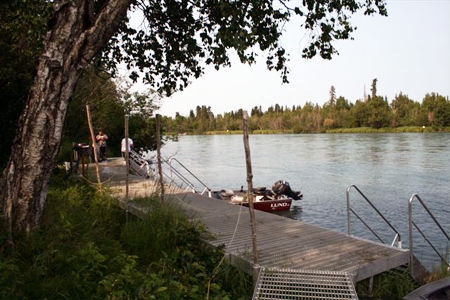 Alaska's
Kenai King Salmon
Includes
Guide service
Tackle and bait
Catch processing
Catch shipping
Lodging
Meals
Pricing
The Kenai River is home to the largest King Salmon in the world. Anglers work hard for most strikes, but there's nothing like catching one of these majestic Kings. The Kenai River's King Salmon season is probably one of the most competitive, so having the right guide is essential.
The King Salmon run is like the "World Series of King Salmon Fishing" and each year the best salmon guides from all over Northwest Alaska converge to guide anglers from all over the world for a chance at one of these trophies. It's an amazing experience that every angler should experience in his or her life!
The Kenai River is glacier-fed, running from Kenai Lake to the central Kenai Peninsula region.
Where it's at.

This trip begins and ends in friendly Soldotna, Alaska, home to the Kenai River and the world's largest Salmon catch.
What's included.
---
License and stamps
Both residents and non-residents age 16 or older must possess a Sport Fishing License as well as a King Salmon Stamp for this trip. State residents age 60 or older who maintain their residency may participate without a Sport Fishing License, however must possess an ADF&G Permanent ID Card. Permanent ID Card applications are available only at Fish and Game offices. Holders of Permanent ID Cards DO NOT need to purchase a King Salmon Stamp for this trip.
Due to annual harvest limits for King Salmon, Permanent ID Card holders and anglers younger than 16 years must obtain a Free Harvest Record Card for this trip. These cards are used to record the harvest of King Salmon.
Guide service
This trip is provided by Jim Rusk Fishing. Jim is a native Alaskan who has fished the Kenai and Kasilof rivers since he was a boy. He's been guiding anglers on these Kenai Peninsula rivers since 1987. You will find guide service reflects strongly his long-lived passion for the area's fishing. Remember, your guide is there to ensure you have a safe fishing trip.
Boat, tackle and bait
Fish from aboard a 20' hand-crafting Willie Boat powered by Yamaha. These boats are very wide, making them stable and roomy, so fishing is quite comfortable. You'll enjoy the Bentley seats, diamond plate flooring, plenty of dry storage and other features.
Fish processing and shipment
Your catch is carefully cleaned, filleted and/or steaked, then vacuum sealed for maximum protection against freezer burn. The fish is flash frozen and shipped overnight to your choice location. Up to 50 pounds catch processing and shipping is included in trip price.
Lodging and meals
Make yourself at home in one of four newly renovated cabins on the Kenai River. Each cabin is equipped with a microwave, refrigerator, shower and toilet. In addition, there is a fully-equipped community kitchen on the property. A grated walkway provides easy access to fishing and there are cleaning stations and freezer space available. The property is family-friendly and includes a fire pit and several grills.
Things to bring.
---
Fishing in the US will assist you in obtaining proper licensing prior to your fishing trip, however you must remember to bring it with you.
More fun to do.
---
The Soldotna area offers a variety of activities and the people will make you feel right at home. Exploring the Kenai National Wildlife Refuge is amazing, whether by hike or a scenic flight. Clam digging along the beaches of Cook Inlet can be fun for the entire family. Wildlife viewing is always an option, whether it is the exhilarating sight of a bear or the relaxing sound of the American Dipper. Also, glacier tours and snow skiing are less than a day away.