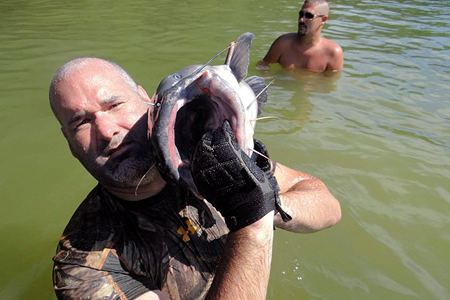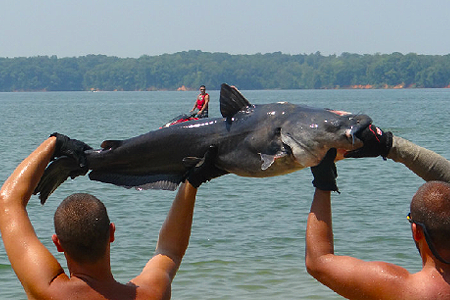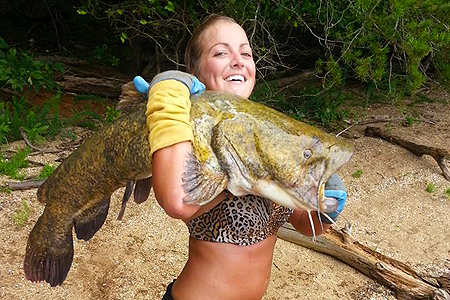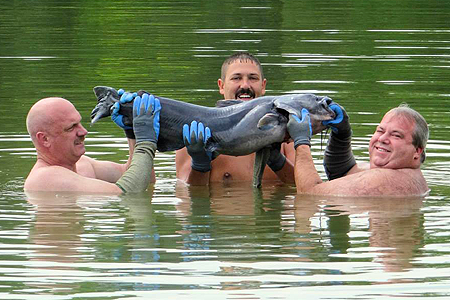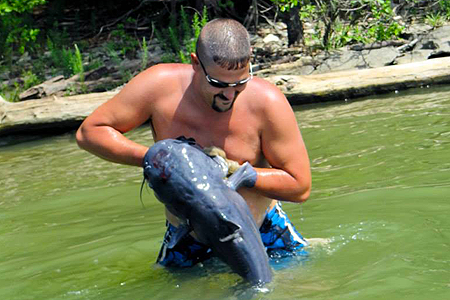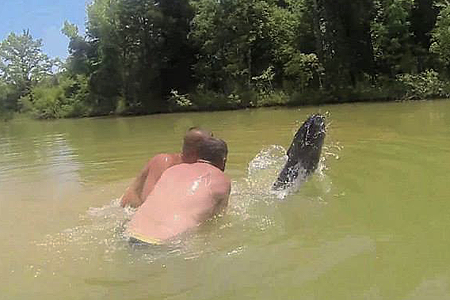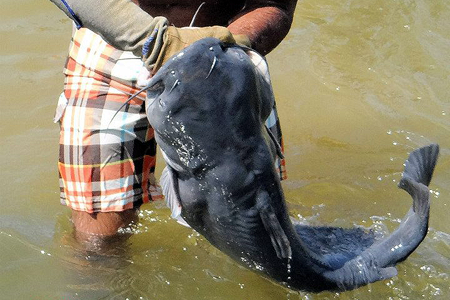 Tennessee's
Hillbilly Hand Fishing
Pricing
Experience the adventure of "Hillbilly Hand Fishing" for monster size catfish in the foothills of Southeast Tennessee. This fishing adventure is certainly not for the faint of heart, but for those seeking a thrill, it's a trip you won't forget.
In most parts of the world, this extreme sport fishing is known as "noodling", but folks in Southeast Tennessee refer to the excitement as "grabbling" and rightly so, since you'll be grabbing catfish with your own two hands.
Catfish live in holes, such as under brush or boat ramps, so the fishing method is to find them in their dwelling, then reach in and grab them. Better yet, the catfish will grab you as he tries to protect his home!
Most of the catfish grabbed are flatheads or blues and weigh in between 30 and 60 pounds. As you can imagine, being the size of a small child, these mudcats are quite capable of putting up a good fight. For this reason, children are welcome to come along for the ride, but grabblers need to be tall enough and strong enough to fight these incredible fish.
Where it's at.
---
Most trips are on the Tennessee River near Knoxville, but may be on surrounding lakes or rivers, depending on current fish activity.
Trip time: The trip begins at 8:00am EST and ends at approximately 5:00pm EST.
What's included.
---
Guide service
Will Goodman has been grabbling since he was around 12 years old, and still remembers the exhilaration of his first catch. Rest assured he can put you where you need to be for a nice cat fight.
Boat, tackle and bait
This trip is aboard a pontoon, which can comfortably accommodate up to 5 anglers in addition to your guide and another spotter. You won't need fishing bait or tackle for catfish grabbling, but you will need to bring along your current state fishing license. To obtain a Tennessee State Fishing License, visit TWRA Online License Center.
Things to bring.
---
In addition to your current fishing license, feel free to bring along snacks and drinks of your choice as well as a camera, sunscreen and sunglasses.
More fun to have.
---
There's more than enough to keep you busy in the foothills of the Great Smoky Mountains. We recommend nearby Gatlinburg or in the immediate vacinity, a trip to The Lost Sea.